Humic acids are an excellent natural and 100% organic way to provide plants and soil with a concentrated dose of essential nutrients, vitamins and trace elements. The best source of humic acid is derived from mid sedimentation layers called Leonardite. They act as a bio-stimulant for the plant. Humic acids enhance plant growth particularly biomass production and fertility of the soil. As humic acids are completely decomposed, they do not enter into nutritional competition with plants for nutrients such as for nitrogen. Current scientific studies show that the fertility of soil is determined to a very large extent by the content of humic substance in matrix. Their high cation-exchange capacity (movement of ions across the root), oxygen content as well as high water holding capacity are but a few reasons for using humic acids in the improvement of soil fertility and plant growth.
Increase organic matter content in soil
Improve photosynthesis of crops
Increase the release of potassium and utilization of potash
Enhance the content of available K
Improve water storage capacity of soil
Quick release organic fertilizer
Enhance the usability of soil
Stimulate crop growth, control the release of nutrients
Improve the quality and yield of crops, promote the efficiency of fertilizer
| | | | | |
| --- | --- | --- | --- | --- |
|  Appearance | Black Powder | Black Granule | Black Powder | Black Granule |
|  Product code | JFHA-HA-1-P | JFHA-HA-1-G | JFHA-HA-2-P | JFHA-HA-2-G |
|  Organic Matter(dry basis) | 85.0%min | 85%min | 80.0%min | 80%min |
|  Solubility | NO | NO | NO | NO |
|  C.E.C | ≥200meq/100g | ≥200meq/100g | ≥200meq/100g | ≥200meq/100g |
|  Humic Acid(dry basis) | 60.0%min | 60%min | 50.0%min | 50%min |
|  Moisture | 25.0%max | 25.0%max | 25.0%max | 25.0%max |
|  Particle size /mesh | 60mesh | 2-4mm | 60mesh | 2-4mm |
| Granule Radial Load | 0 | 12N | 0 | 12N |
|  pH | 4-6 | 4-6 | 4-6 | 4-6 |
1kg, 5kgs, 10kgs printing aluminium foil bag + 10kgs, 20kgs printing carton box.
20kgs/25kg woven/paper bags with inner liner.
20kgs/25kg color printing PP/PE bags with inner liner.
1MT,1.1MT jumbo bags with discharge hole.
According to customer'requirement.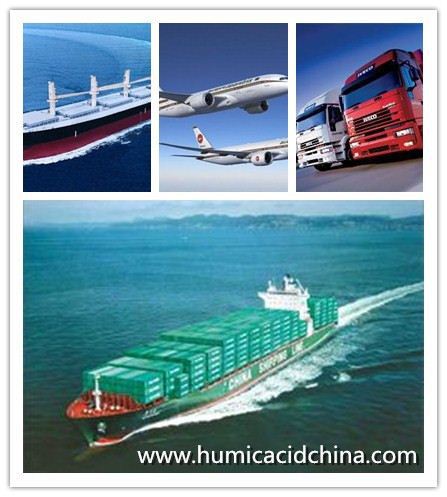 Shandong Jingfeng Humic Acid Technology Co., Ltd. is committed to humic acid R & D sales of high-tech companies, was founded in 2009, in early 2015 the restructuring, the registered capital of 500 million, total assets of 20 million yuan, has more than 50 employees, including professional R & D 5 people.
The company is committed to humic acid products development sales, agriculture, development and application of humic acid, humic acid used in the ceramic industry batteries aspects of the application of humic acid feed farming and pharmaceutical grade humic acid research and development applications, has achieved remarkable results. We are currently registered international certification in some foreign institutions.
Main products
Currently we have Agricultural Product series humic acid base fertilizer NPK, humic fertilization, macronutrients humic fertilization, fulvic acid foliage and the like; lead-acid batteries expansive aspect of high purity humic acid; humic feed machine sodium, pharmaceutical grade humic acid and so on 30 kinds of products.
Overseas Bestsellers: original humic acid powder, humic acid granules, sodium humate, humic acid refining sodium, potassium humate, humic acid, potassium refined, nitro humic acid, humic acid boron, magnesium humic acid, humic acid phosphate, potassium fulvate, fulvic acid chelated trace elements such as humic acid have been exported to Europe, America, Japan and South Korea, the Middle East and Southeast Asia more than two dozen countries, was widely praised.
Technical strength
We have a professional laboratory analysis room for humic acid products to conduct a comprehensive analysis, and given a full-extraction program for extracting different humic acid materials. For humic acid application in agriculture, we can make for soil water and crop situation in different regions of the analysis, and then the case with fat; our focus area for fertilization of crops able to program, rushed release from basal foliage conduct Fertilization job with the Trinity; and for soil improvement, such as salt, heavy metal pollution, as well as wind and sand that we can come up with very effective program plan; for humic acid in aquaculture, we have compounded the feed level sodium humate, We conducted a series of recipes for each physical mechanism for feeding animals in research and development; in industrial applications we have a series of new exploration. While our R & D team for humic acid in new areas such as food and medicine have made new developments have made some medical humic acid products. We actively with well-known experts to exchange humic acid, or even work together, he made a series of fruitful research.
Our team
We have experienced R & D team in product research and development applications has a superior advantage, we have an active sales of domestic sales and international export sales team weave a strong sales network and production aspects of our co-production base provides us with a whole strong post-production sources guarantee.